Machu Picchu: Earliest Maps and 19th Century (pre-Hiram Bingham) Visitors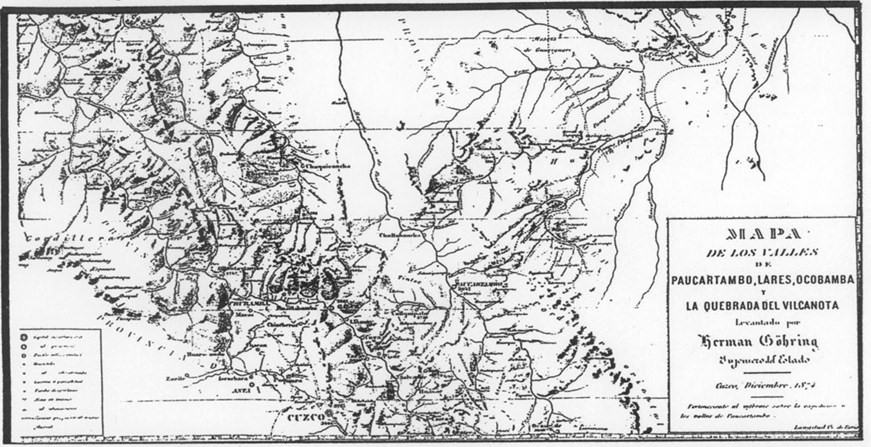 (Above: Herman Göhring's 1874 map of the Cuzco area depicted the twin peaks of "Macchu-Picchu" and "Huainu-Picchu," but indicated no ruins; map published by Daniel Buck in The South American Explorer in January, 1993)
Fights of Machu Picchu (Part 3)
By Daniel Buck
Maps
The earliest cartographical reference to Machu Picchu, as either a peak or a ruin, appears on "Mapa de los Valles de Paucartambo, Lares, Ocobamba y la Quebrada del Vilconota Levantado por Herman Gohring Enginiero Estado, Cuzco, Diciembre 1874," accompanying the report, Informe al Supremo Gobierno del Perú Sobre la Expedición a los Valles de Paucartambo en 1873 (Lima, 2nd. ed., 1877). Like von Hassel, Gohring was a German engineer in service to the Peruvian government. In a…
section of his report entitled, "Obras antíguas en las rutas de la Expedición," Gohring discussed rebel Inca forts, specifically citing "the nearby fortresses of Chuquillusca, Torontoy or Picchu" (p. 106). He accomplished a geological survey of the Urubamba Valley, which he apparently traversed on foot as far down as Santa Ana. His Urubamba chart marks Mandor Pampa, at the foot of Machu Picchu, at 1,913 meters (pp. 41-5). Gohring's map (between pp. 106-7) incorrectly locates "Huainu Picchu" south of "Macchu Picchu."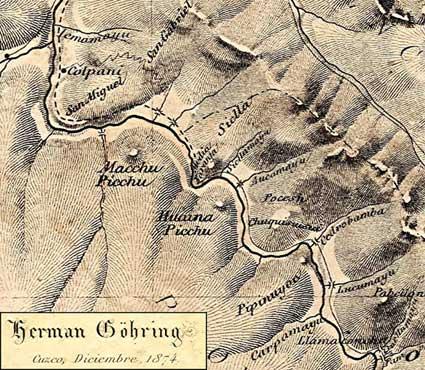 (At left: A detail of Göhring's 1874 map; from Paolo Greer)

If Gohring climbed up to the ruined city, he never mentioned it in his report. Charles Wiener, a French explorer who traveled in Peru in 1875, a few years after Gohring, had been told in Ollantaytambo about certain ruins, including those at "Huainan-Picchu" and "Matcho Picchu," but he was unable to reach them during his visit.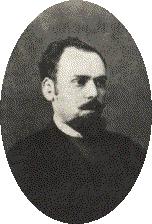 (At left: The Austrian-French scientist-explorer, Charles Wiener (1851-1919) )
His account of his explorations, Perou et Bolivie (Paris, 1880), contains a map, "Vallee de Santa-Ana," incorrectly placing "Huaynapicchu" south of "Malchopicchu" on the east side of the Urubamba. The map was apparently published in Paris by the Societe de Geographie in 1877, three years before the publication of Wiener's book. Bingham was familiar with Wiener's book. When a Cuzqueño told Bingham that he had seen "ruins `finer than Choqquequirau' at a place called Huayna Picchu," Bingham thought that the "report resembled Wiener's account" (Inca Land, p. 201).
If anyone, by luck or design, should have discovered Machu Picchu, it was Italian explorer-geographer Antonio Raimondi, who logged more kilometers to more corners of Peru than any person before or since. Raimondi explored the Urubamba Valley region in the 1850s and 1860s, but he never stumbled upon Machu Picchu. That's not to say he didn't come close.
(At left: Antonio Raimondi (1824-1890) )

On an 1858 excursion, he trudged from Ollantaytambo up through the Paso Panticalla north of the Vilcanota range and came down into the Urubamba Valley at Chaullay (El Perú, vol. V, Lima, 1913, pp. 47-8). The Cuzco sheet (Mapa del Perú foja no. 26, Paris, n.d.) of his 1891-2 Peru map (which may have been drawn not by Raimondi, who died in 1890, but by the Sociedad Geográfica de Lima) placed "Co [Cerro] Machu Picchu" on the west side of the Urubamba just north of an unnamed peak that appears similar to Gohring's and Wiener's Huainu Picchu. Raimondi's Cuzco sheet shows a trail down the Urubamba Valley on the east side of the river, an indication that foot traffic down the Ollantaytambo-Chaullay stretch of the valley was possible prior to the circa-1895 construction of the road that Bingham had followed.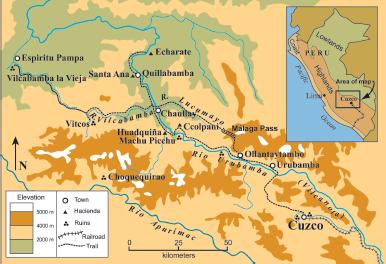 (At left: the Urubamba Valley area, showing the locations of the haciendas Echarate and Huadquiña)
Further evidence of the existence of such a road comes from Fray Luis Sabate, who descended the Urubamba Valley in 1874-5. In his account, Viaje de los Padres Misioneros del Convento de Cuzco (Lima, 1877), Fray Sabate tells of heading down valley from Torontoy following "a difficult, unfinished road that was cluttered with dangerous patches where we had to unload our burros and carry our packs on our shoulders." Occasionally, Fray Sabate's party had to open a new path entirely. At Media Naranja, his party rested at Balaguer's hacienda, almost at the foot of Machu Picchu, but his account made no note of any ruins. Leaving Media Naranja, they "encountered an old road that goes back to the time of the Incas." He spotted a similar road on the far side of the Urubamba.
English historian-explorer Clements Markham's The Incas of Peru (London, 1910) included a map, "South Peru and North Peru," showing "Co Machu Picchu" on the west side of the Urubamba. The map had been first published to accompany Markham's article, "The Land of the Incas," in the October 1910 Royal Geographical Society Journal. Among the map sources cited by Markham were Raimondi and Wiener, but not Gohring, although the latter was described as the first person to have visited the Rio Pilcopta in the region.
The "Mapa Que Comprende Las Ultimas Exploraciones y Estudios Verificados Desde 1900 Hasta 1906," published in the Boletín de la Sociedad Geográfica de Lima (BSGL) (vol. 25, no. 19, 1909) contains no reference to Machu Picchu as a peak or an archaeological site. If Machu Picchu had been discovered, the Sociedad Geográfica de Lima didn't know about it.
Bingham's Discovery
Bingham made no secret of the fact that, before heading down the Urubamba Valley, he had been alerted to the existence of ruins at Machu Picchu. The American-born rector of the University of Cuzco, Albert A. Giesecke, had met Bingham during his 1909 visit to Cuzco and held a number of conversations with him during his return to the city in 1911. The rector shared with the explorer stories of ruins above Mandor Pampa, stories told by his friend Brauda Palo y Broda at Hacienda Echarte below Mandor Pampa and by Melchor Arteaga, who lived at Mandor Pampa itself. Bingham also heard about these ruins from another Cuzqueño, Alberto Duque, who lived on his father's hacienda at Santa Ana between Echarte and Mandor Pampa.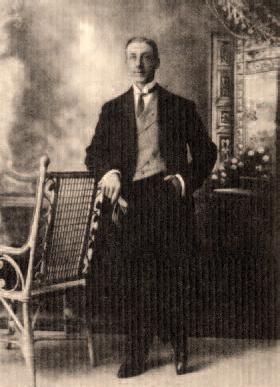 (At left: Albert Gieseke (1883-1968), the American rector of Cuzco's university when Hiram Bingham visited Cuzco in 1909 and 1911; from D. Gade, A Philadelphian in the Land of the Incas)
Upon arriving at Mandor Pampa, Bingham encountered Arteaga, who agreed–in exchange for a Peruvian sol, then worth about a dollar–to guide him to the ruins. Accompanied by Bingham's military escort, Sergeant Carrasco, they clambered across the Rio Urubamba on a pole bridge and climbed up the muddy, shrub-tangled mountainside to Machu Picchu. Once on top, Arteaga retired and turned the guiding chores over to an unnamed boy, the son of one of the campesinos farming amidst the lost city of the Incas (Portrait of an Explorer, p. 9).
During his hurried inspection of the ruins, Bingham took note of a name and date, "Lizarraga 1902," scribbled on a wall. The following day, Arteaga told Bingham that Agustín Lizarrága, who lived at the nearby San Miguel bridge, had discovered Machu Picchu.
In a handwritten letter dated August 8, 1911, at Santa Ana to Dr. J. S. Keltie at the Royal Geographical Society in London, Bingham made his first announcement of his discovery, writing that he had
"found the ruins of a wonderful old Inca city…now called Machu Pichu i.e. old Pichu. It is so difficult of access that no one hereabouts has seen it. So far as I can discover only three Peruvians have seen it (except for a few Indians)." During a shipboard interview published in The New York Times December 22, 1911, as Bingham was returning to the United States, he proclaimed that the members of his expedition "were the first white men to see the remains of the City of Machu Picchu…since Pizarro entered it 400 years ago."
Bingham subsequently wrote up his achievement for several periodicals, including Harper's Magazine (April 1913), in which he told of arriving in Cuzco and hearing tales of ruins in the Urubamba Valley, but in terms so general and from sources so unreliable that not even his Peruvian friends put much stock in them:
"It was known to a few people in Cuzco, chiefly residents of Convención, that there were ruins, still undescribed, in the valley of the Urubamba. One friend told us that a muleteer [Arteaga?] had told him of some ruins near the bridge at San Miguel. Knowing the propensity of his countrymen to exaggerate, he placed little confidence in the report, and had passed by the place a score of times without taking the trouble to look into the matter. Another friend, who owned a sugar plantation on the Vilcabamba River, said he also had heard vague rumors of ruins…. At length a talkative old peddler said that there were ruins 'finer than Choqquequirau' down the valley somewhere."
Giesecke might have been the first-mentioned friend, although he had only heard the story of the ruins in March of that year and had wanted to ascend Machu Picchu to take a look, but had been defeated by bad weather. He did take the story seriously enough to urge Bingham to have a look.
Two months after the Harper's article, The New York Times put the tale of the Machu Picchu discovery on the front page of its Sunday magazine section. The article, "Lost City in the Clouds Found After Centuries," incorrectly reported that Bingham "had already heard of the existence of the lost city on his previous visits and had read a book by an Austrian who was in [Peru] forty years ago and said he had been told about it." Presumably, the Austrian was the French explorer Wiener [ed. note: Wiener was actually born in Austria], whose book Bingham had read. In the Times story, Bingham attributed the actual discovery to his chance questioning of "an Indian rather better than the average, but overfond of 'firewater."' Presumably, the Indian was the mestizo Arteaga, whom Bingham questioned not by chance but at the suggestion of Giesecke.
In a 1922 letter to his former school head in Honolulu, Bingham defined his discovery of Machu Picchu as scientific, the prevailing Peruvian opinion, and said that before he reported his visit to the site, "it was not known to the geographical and historical societies in Peru, nor to the Peruvian government. It had been visited by a few Indians and half-casts and possibly one European" (Portrait of an Explorer, p. 26). Bingham never identified the European.
Peruvian Commentaries on Bingham's Discovery of Machu Picchu
The first Peruvian analysis of Bingham's discovery of Machu Picchu, "Machupiceho," was published by Jose Gabriel Cosio in the BSGL (vol. 28, no. 22, 1912). Cosio, who was the official Peruvian delegate to Bingham's follow-up expedition to Machu Picchu in 1912, wrote that before the explorer had arrived at the lost city "nothing had been heard about this historical site, and if it was mentioned by name it was simply to designate the Sillique hacienda, in whose vicinity it was found, and not to identify the ruins on top of the mountain."
According to Cosio, although Machu Picchu was well-known locally, Bingham was, in fact, the city's scientific discoverer:
"It is not true that Dr. Bingham was the discoverer of the ruins, but he did give them fame and archaeological interest. Before he came there, they were frequently ascended, and many people even lived there, cultivating squash, yuca, sweet potato, sugar cane, and corn. A Mr. Lizirraga, now deceased, knew the site in all its details. On July 14,1902, by the same road that Dr. Bingham took, a Mr. Sanchez, of Caicai, and Messrs. Enrique Palma and Lizárraga came to Machupiccho. But, as always happens, they had no scientific or historical interest. They were only interested in hunting for lost treasgres that they thought were rumored to be buried in such locations."
Cosio also mentioned that, when he visited Machu Picchu in 1912, he ascertained that Anacieto Alvares, one of the campesinos farming in the ruins, had lived there for eight years (BSGL, vol. 28., no. 22, 1912). The following year, Giesecke published his own commentary, "Una Excursión a Machupiccho" (BSGL, vol. 28, no. 22, 1913), on his July 1912 excursion to the ruins. Crediting Bingham as "the first person to scientifically investigate" the ruins, Giesecke modestly declined to mention either the key role he had played in alerting Bingham to the existence of the lost city or the fact that only foul weather had kept the glory from being his.
A decade later, Cosio wrote a Cuzco guide book, El Cuzco, Histórico y Monumental (Lima, 1924), in which he called Bingham "the scientific discoverer of Machu Picchu," (p. 86). That same year, Giesecke also published a guide, Gala del Cuzco, La Meca de la América del Sur (Lima, 1924), without mentioning his role in the discovery. Both books recommended the Arteaga family as tambo-keepers and guides for Machu Picchu excursionists. How many tourists
made the trek is not known. Two years later, Giesecke co-authored an English-language guide, Cusco, (Historical and Artistic Guide) (Lima 1926), in which he referred readers to Bingham's National Geographic articles for information about Machu Picchu.
In 1961, the 50th anniversary of the scientific discovery of Machu Picchu was cause for great celebration in Peru. Hiram Bingham IV, representing his family (his explorer-father had died in 1957), flew in from the United States. In an embarrassing incident repeated over the years by innumerable tourists, Bingham IV was lost for two hours in the ruins and, as darkness fell and a search party was about to be despatched, he reappeared, explaining that "I lost track of time contemplating this millennial city" (El Comercio, Lima, July 25,1961). Giesecke also attended the ceremonies in Cuzco and Machu Picchu as an honored guest, and served as an interpreter for Bingham IV (La Prensa, Lima, July 20 and 25, 1961).
The Lima daily La Prensa, ran a ten-part illustrated series, "El Descubrimiento de Machu Picchu," which credited Bingham as "being the first to have technically explored [Machu Picchu] and divulged her existence to Peru and the world," while detailing Giesecke's role in alerting Bingham to the city's location. As the series explained it, in March of 1911, Giesecke had been invited by his friend "Braulio Polo de la Borda" (in an earlier reference, Giesecke referred to him as "Braude Palo y Borda") to visit his hacienda at Echarte. Polo de la Borda told him of numerous ruins along the Urubamba.
(Far left: A map of the Machu Picchu area in 1911, showing Bingham's camp, Arteaga's dwelling, the mule trail along the Urubamba, etc. At right: the same area in 2006, showing the railway, Aguas Calientes, the "Hiram Bingham Highway" to Machu Picchu, etc.; from D. Gade, A Philadelphian in the Land of the Incas)
On his horseback ride down the valley, Giesecke camped at Mandor Pampa near Arteaga's choza. The next morning, Arteaga told Giesecke of the extensive ruins above them on Machu Picchu. Giesecke continued on down the valley to Hacienda Echarte without climbing the difficult trail to the ruins. In another account, Giesecke said that heavy rains made the ascent difficult. Three months later, Giesecke passed Arteaga's story along to Bingham, who made a note to seek him out in Mandor Pampa (La Prensa, July 17-26, 1961).
During June and July 1961, a second Lima daily, El Comercio, ran a 16-part series, "El Misterio de Machu Picchu," by Gustavo Montoya, with a "historical assessment" by Dr. Alberto Giesecke. The series was written in a dialogue format, recreating conversations, most of which neither Montoya nor Giesecke had been present to hear, among Americans and Peruvians associated with various Bingham expeditions. Part Three of the series (July 3, 1961), which covered Bingham's initial conversations with Giesecke in Cuzco, neglects to mention the rector's role in relating Polo de la Borda's stories of the ruins at Machu Picchu.
In Cuzco, El Comercio also interviewed a member of Bingham's 1911 expedition, 68-year old Luis Rodriguez Carpio, who had just returned from Lima, where he had been a guest on the television show, Esta es su Vida. Rodriguez Carpio told El Comercio that in 1906 he had moved to Cuzco from Arequipa, and had traveled the Urubamba Valley on many occasions, hauling cocoa up to Cuzco from the Hacienda Echarte. He had often camped at Mandor Pampa and had purchased rocotos and birraca grown in the chacras amidst the Machu Picchu ruins, "without knowing of the [ruins'] existence." In June 1911, the then 18-year-old Rodriguez Carpio was employed at a Cuzco brewery when Cesar Lomellini and Bingham approached him about working as a guide on the explorer's expedition. He accepted the job for 40 soles a month and spent three years working for Bingham, who he said was "cordial, affable, and spoke very good Spanish."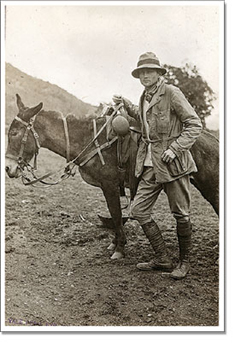 (At left: Hiram Bingham III, circa 1911-1915 in Peru)
Rodriguez Carpio went on to say that he had supplied 14 mules to the 1911 expedition and that, in Ollantaytambo, they had obtained four peons from the governor, Luis Valle. Further down the valley, at Mandor Pampa, they hired two men, named "Monroy" and "Lizarrage." He implied that he had ascended to the ruins with Bingham and the following day returned to Cuzco, where he bought more mules from "the widow Garmendia, Jose Cuba, and others" for use on subsequent trips (El Comercio, July 24, 1961). If nothing else, Rodriguez Carpio's interview contradicts the stories that Bingham could not speak Spanish and that Payne or Stapleton provided the mules for the expedition.
El Comercio also interviewed another Peruvian, Ricardo Charaja, who recalled that they had cleared the ruins "inch by inch." He said that Bingham had "Cuzco porters, 120 mules, and 30 muleteers" (El Comercio, July 25, 1961). Bingham did not clear the Machu Picchu ruins until his second visit, leading the National Geographic Society and Yale University's Peruvian Expedition of 1912, so Charaja may have been mistaken as to which expedition he participated in.
El Comercio also included Giesecke in the 50th anniversary interviews. Soon after arriving in Cuzco in 1911, according to the rector, Bingham approached Cesar Lomellini and him to explain the purpose of his expedition. Giesecke recalled the explorers paying frequent calls to the rectory, where they spoke "principally about the Urubamba valley and probable locations of ruins there." During those conversations, Giesecke said, he told Bingham of his journey to the
Hacienda Echarte, and of Polo de la Borda's story of the ruins in the valley" (El Comercio, July 24, 1961). The Universidad Nacional de Cuzco devoted the entire July 1961 issue of the Revista del Museo e Instituto Arqueológico (vol.XII, no. 19) to the discovery and significance of Machu Picchu. An unsigned introductory essay (pp. 7-8) summarized the early Peruvian visits to the ruins:
"It is known that around 1894, Sr. Don Luis Bejar Ugarte was one of the first to ascend to the marvelous ruins, of which a reference had been made by the farmer Lizárraga. Likewise, it is known that in 1904 Don Melquides Alvarez lived in the Machu Picchu complex, dedicating himself to cultivating the crops of the region.
On July 14 in the year 1901, Don Enrique Palma, Agustín Lizárraga, and Don Gavino Sanchez, campesinos from Hacienda Colpani in the San Miguel zone, ascended to Machu Picchu."
Ugarte's 1894 climb now stands as the earliest recorded visit to Machu Picchu, followed by the Palma-Lizárraga-Gavino-Sanchez ascent in 1901. If Payne, von Hassel, and Haenel ever reached the heights of Machu Picchu, their claims would have to lineup behind those of the Peruvians'.
In the same special RMIA issue (p. 17), Giesecke elaborated on his almost-discovery. He said that Polo de la Borda had not given much credence to the tales of ruins at Machu Picchu, because they had been told to him by a peon looking for stray livestock. On his return to Cuzco from Hacienda Echarte a few days later, a torrential rain forced Giesecke to camp at Mandor Pampa, where Arteaga "confirmed to us the same information [about the ruins] and [said] that he cultivated a small plot of land amongst the ruins at the top of the peak at which foot was the Mandor bridge."
Final Word
A few years after Bingham's discovery was announced to the world, American travel writer Harry A. Franck, hiking south from Panama to Buenos Aires, dropped in on Machu Picchu. Accompanied by Cesar Lomellini, he lodged at the Mandor Pampa tambo of Bingham's first guide, Arteaga, whom Franck quickly deduced still held the lost city of the Incas in low regard:
"[Arteaga] had long known of the ruins, as had other natives, but had never considered them extensive or important. Indeed, he seemed still to have a distinctly low opinion of them as `cosas de Gentiles' [`pagan things'] not to be compared with the Cathedral of Cuzco with its tin saints and plaster virgins" (The Century, July 1916, p. 227).
(Next: An interview with the explorer, Paolo Greer)
Below: A member of one of Hiram Bingham's three expeditions to Peru (1911, 1912, 1914-15); from "Inca Land," 1922. Bingham's original caption for the photo was a fragment of a poem by Rudyard Kipling, called "The Explorer":
"Something hidden. Go and find it. Go and look behind the Ranges—Something lost behind the Ranges. Lost and waiting for you. Go!"